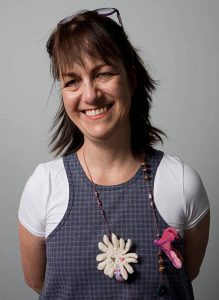 Helen works closely with our Managing Trustee, Parishna to raise the funds needed, to keep our practitioners safely training in the field, to raise the income needed to purchase and maintain vehicles for our practitioners: vehciles that can cope with rough rural roads and to buy assistive devices for our clients.
Helen had a very successful musical career playing in orchestras both here and abroad. On her return from a spell working in Finland, she felt that she wanted to give more than just music to people.


She wanted to help people with little opportunity to find a musical future. And she did. She founded the Keiskamma Music Academy. That was in a poor rural part of the Eastern Cape. It is there that she discovered her fundraising skills.
In the process she has found a passion for the work we do and the change it brings to the lives of blind people living on the margin.