If you were introduced to someone with this on her CV – UNISA Performer's Licentiate Diploma for flute, with distinction and UNISA Teacher's Licentiate Diploma for flute, with distinction – you might be surprised to find out that you were actually looking at one of South Africa's best fundraisers. Her name is Hellen Vosloo.
But how did this move from playing flute to raising loot happen?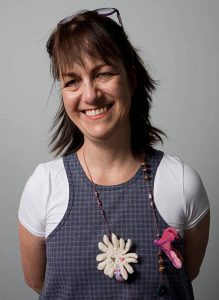 Today, she works for SAMBT as a fundraiser and in three short years, has helped us to turn our funding fortunes around.
Helen had a very successful musical career playing in orchestras both here and abroad. On her return from a spell working in Finland, she felt that she wanted to give more than just music to people.


She wanted to help people with little opportunity to find a musical future. And she did. She founded the Keiskamma Music Academy. That was in a poor rural part of the Eastern Cape. It is there that she discovered her fundraising skills.
In the process she has found a passion for the work we do and the change it brings to the lives of blind people living on the margin.