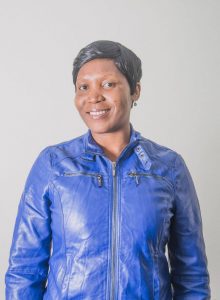 Before becoming an Orientation and Mobility Practitioner, Kidibone qualified as a sign language interpreter and she also has a Diploma in Human Rights.
Kidi joined SAMBT in 2015.
In her CV she says that she likes traveling and meeting new exciting people. Well, since she has worked for SAMBT she has certainly travelled. She has also met a lot of new people – many of whom are her blind clients. She has run programmes in Phuthaditjaba in the Free State, in rural KZN and Eastern Cape. She has worked all over Gauteng and in her home province of North-West.
She tells of how some of those same clients said to her that she was telling them fairy tales when she told them what they would be able to do once she had trained them. But by the end of their training , they had changed their minds and were saying things like, "I want to stand on the top of a mountain and tell the world about this!"